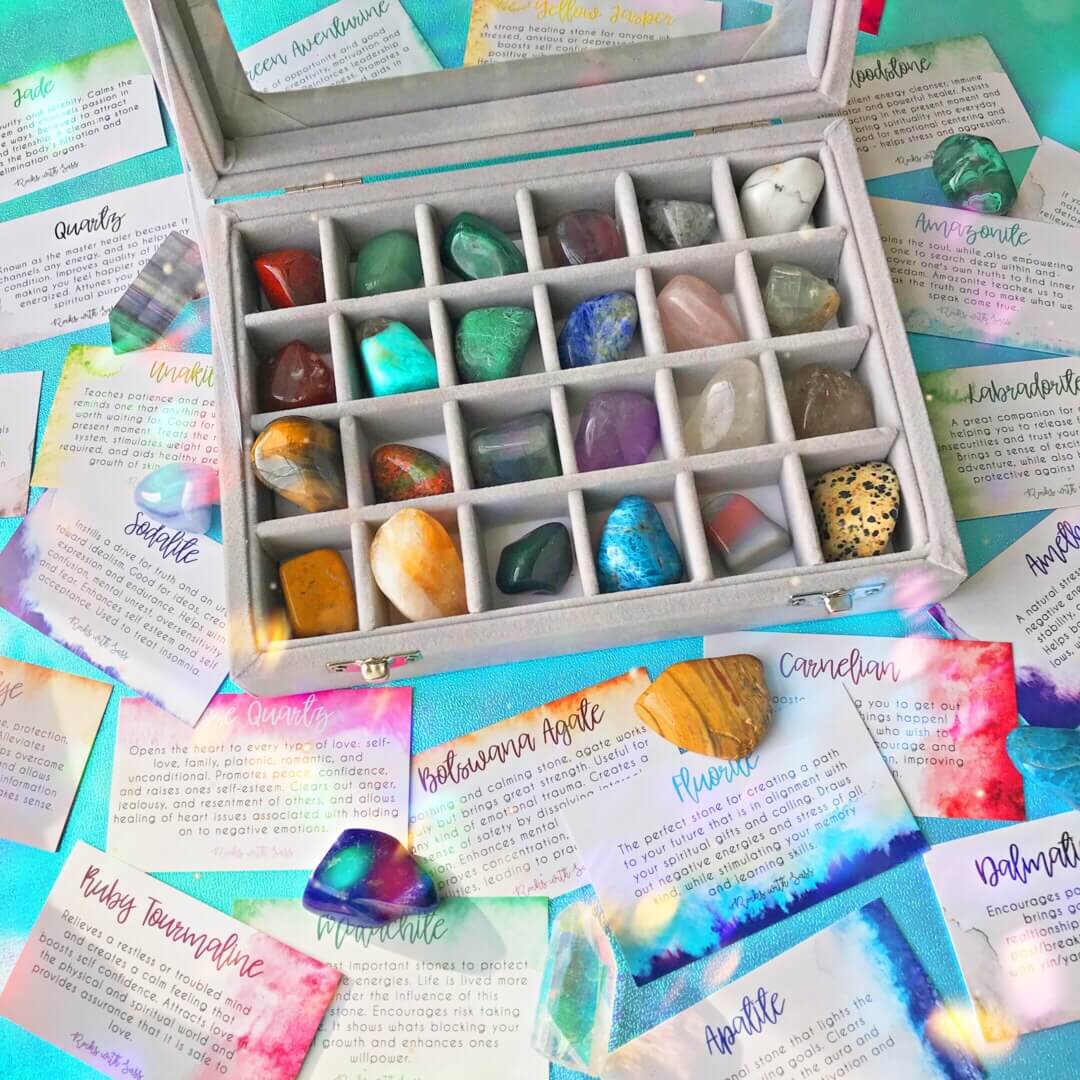 CRYSTAL SETS
Complete Crystal Set with Organizer
This 24 piece crystal set is the perfect way to start / enhance your crystal collection. With a full range of color and properties you're sure to find the exact crystal you need each time you open the box!
Includes the following crystals, corresponding meaning cards, and grey organizer:
Red Jasper

Carnelian

Tiger's Eye

Yellow Jasper

Green Aventurine

Amazonite

Unakite

Citrine

Malachite

Jade

Bloodstone

Apatite

Sodalite

Amethyst

Rose Quartz

Howlite

Quartz

Agate

Smoky Quartz

Ruby Tourmaline

Fluorite

Emerald

Black Tourmaline

Black Onyx

Please note because of supply, Moonstone, Labradorite, and Dalmatian Jasper have been replaced with Fluorite, Ruby Tourmaline, and Jade.
Ways to use your tumbled crystals:
Meditate with your stones. Relax your vibes and let it resonate with your energy

Carry it with you. Hold it or slip it into your pocket / purse

Feng shui in your home

Create a crystal grid
Crystal Sizes approximately: 1-2"
Note: You will not receive the exact stones pictured, but stones of the same quality and similar appearance. There will be a card with crystal names under the grid for beginners. This can be removed at any time by lifting up the grid, removing the paper, and replacing the grid.
**Please understand the above description is not a promise to cure ailments. Points of the description have been taken from my favorite crystal books and online resources.**